"Believe deep down in your heart that you're destined to do great things."
Joseph Vincent Paterno
OUR SPONSORS
Support businesses who support us. If your business would like to be a sponsor and place your logo and link here, please contact us.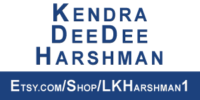 Congratulations to our new officers for the 2020-2021 fiscal year. They are: Jodi Lupp - Vice President (second term) Helen Adler - Treasurer (first...
Nominations for the 2020-2021 Central Florida Chapter Board opened on May 5th, 2020. Positions opened for nomination include Vice President,...
News Feeds from University Park