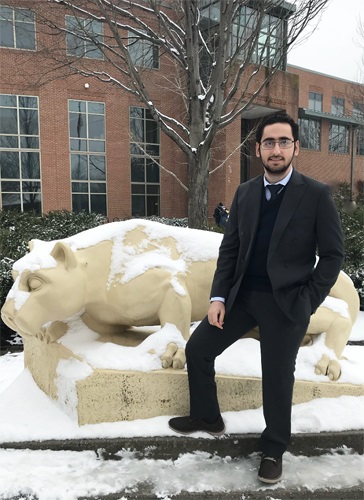 Each year, the Central Florida Chapter awards a full-time student who is returning to one of the 24 campuses in Pennsylvania, is in good academic standing and is a permanent resident within our chapter's geographical area.  We want to congratulate Ali Wreidan on being the recipient of the 2020-2021 Central Florida Chapter Scholarship,  which awards him $2500 toward his education.
Ali, a resident of Orlando, is a junior majoring in computer engineering with an impressive 3.9 GPA. He is well traveled with his family roots in Lebanon. Here is part of what Ali wrote when thanking our chapter upon receiving his notification of the award.
Thank you all so much for the opportunity you guys have given me, as this scholarship will help get one step closer to affording tuition at what I believe to be one of the best universities internationally…I couldn't be happier…I can assure you that you will see me attend the virtual events your chapter hosts, and hope to meet you all in the near future after this pandemic ends!
Each applicant much follow our scholarship guidelines, which includes a personal information sheet, completing an essay and an interview conducted by our scholarship sub-committee. Each are ranked by the committee with the top candidates being voted on by our membership using our chapter's survey platform. Those rankings are then forwarded to University Park to confirm eligibility which adheres to federal requirements.
Thank you to all of those who took the time to help us select our winner including our scholarship subcommittee and members. We also want to thank all of you who continue to financially support our scholarship fund through donations, fundraisers and membership dues. It is through your generosity that we can continue to support Penn State students from central Florida like Ali.