Football Watch Party Info
We invite you to join us and other central Florida Penn Staters at our NEW chapter football viewing location home at Duffy's Sports Grill in Altamonte Springs to watch your Nittany Lions during the 2021 football season. With Duffy's as our primary location, we are also offering an OUTDOOR ALTERNATIVE at Teak's Neighborhood Grill in Metrowest. Both locations will offer the sounds for each game, a sound system to hear your favorite stadium anthems and Penn State fight songs, some great food and beverage options and deals, and raffles items for our scholarship program. Come out and join other fellow Penn Staters as we cheer our Alma Mater to victory, support our chapter and our local Penn Staters through our scholarship fund. WE ARE…PENN STATE!
We want to thank our past home, Miller's Ale House in Winter Park, for all of their hospitality and efforts over the last 10+ years. As you may already know, we received word from management that they would not be able to continue serving our group for the 2021 season in the same capacity as before. Although they are not our home anymore, we encourage our members to continue supporting them throughout the year if you are visiting Winter Park. Thank you again Ale House for all of the memories.
To help protect our guests, our volunteers and the staff of each venue, Penn State University, the Penn State Alumni Association and the PSAA Central Florida Chapter is requiring the wearing of masks at all indoor activities regardless of vaccination status. To help make our guests feel comfortable at all of our events, our board members will be wearing masks and doing our best to maintain a safe distance as best as possible while at all events (indoor and outdoor). We do encourage all of our guests to do the same primarily while socializing at our events. In doing so, we hope to create a safe environment that will encourage our fellow members and guests to return each week as we navigate through this pandemic while still cheering on our Nittany Lions. Thank you for your understanding.
Duffy's Sports Grill
525 E. Altamonte Drive
Altamonte Springs, FL 32701
(primary location)
Located just 10 miles north of downtown Orlando just off of the I-4 exit 92, Duffy's is within about 30-40 minutes of most people throughout the Orlando-metro area. Decorated with football helmets and memorabilia throughout, it truly is a fantastic location to watch any sporting event. Our room is sectioned off for our Penn State alumni, family, friends and fans alike and holds about 120 or so with plenty of space to move with a 360-degree view of the games. Duffy's menu also has quite a selection with some of the best burgers you will find anywhere. They are also famous for their 2 for 1 drink special, and yes, that includes wide selection of beer. Expect world-class experience with raffles, great food and drinks, full sound of the game with Penn State fight songs and stadium anthems, and other fun surprises at the Central Florida Chapter's new home for Penn State Football Watch Parties, Duffy's in Altamonte Springs.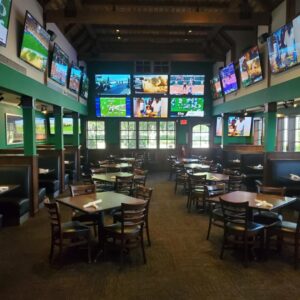 Teak Neighborhood Grill
6400 Time Square Avenue, Orlando, FL, 32835
Orlando, FL 32835
(outdoor option in Metrowest)
Located just 10 miles southwest of downtown Orlando about 4 miles from the I-4 exit 79 or from the SR-408, Teak's is about 30 minutes of most people south and west of downtown Orlando as well as from our primary watch party home in Altamonte Springs. This venue boasts a covered outdoor patio with many cooling units and fans to keep you cool in the summer, heaters to keep you warm in the evenings and enough space for an enjoyable outdoor experience and some of the best burgers in Florida. This section holds over 120 guests and is sectioned off for our Penn State alumni, family, friends and fans. For those early games, Teak's offers a brunch menu and BOTTOMLESS MIMOSAS UNTIL 3PM. Our chapter will bring the roar with a new portable sound system to hear your favorite fight songs and to hear your number called for our scholarship program raffles. Join us as we kick off another great Penn State football season at Teak's in Metrowest!