We are just two weeks away from the beginning of the 2021 Penn State football season. Your chapter board members have been working very hard to bring you a safe and enjoyable experience this year, as well as introducing new programs and initiatives for the Central Florida Chapter. Starting this season, watch parties will have a different experience that we can all be excited about.
At the end of this page, please complete the one question poll so we know how to plan for this football season.
The Dilemma, the Debate and the Depart
For more than a decade, our chapter has called Miller's Ale House in Winter Park home for our football watch parties, having as many as 177 Penn Staters together cheering for our beloved Nittany Lions. On Friday, August 13th, we received word from the Ale House that they would not be able to serve our group this season primarily due to staffing issues, without limiting attendance to 40 or less people and reducing the wait staff in some capacity. Many restaurants are dealing with similar staffing and management challenges, and we did not want to pull away support from the place that we enjoyed for more than 10 years. Our leaders evaluated the feasibility of staying, considered whether it would be best to relieve the Ale House from the burden of managing that many guests, and looked at other options in the area that may better fit our group and give the best experience possible for those who joined us.
After many discussions and looking at 30 locations (many suggested by our members) over the last week, we decided last night to relocate to Duffy's Sports Grill located at 525 E Altamonte Dr, Altamonte Springs, FL 32701.
How We Chose
Our decision process was not an easy one and very time sensitive. We broke it up into four areas (north, south, east and west) and designated board members in their free time to evaluate those spots. One of our biggest challenges was finding spots that did not already have an alumni group committed to. All of the locations evaluated on the east side of Orlando would not make us a priority due to proximity to UCF or were simply too small. We looked at a map of zip codes where our current and past members reside as well as where other PSAA members are concentrated. We found that Altamonte Springs was almost perfectly centered to where most of our members are. We also wanted the new home to be easily accessible from a major highway and within 30-40 minutes of a majority of our members including those outside of Orlando near Winter Garden, Lake Nona, Celebration, Oviedo, Mt. Dora, and Sanford. This made Duffy's an ideal spot for most people.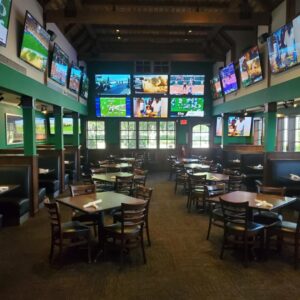 Each venue we interviewed had to include a capacity of over 100 guests devoted just to our group with sound with enough space around each seated area. Their menu had to include a kids menu, drink specials, and the ability to bring in once a year a specialty food item from Penn State (ex. Creamery Ice Cream). They also needed to help contribute to our fundraising via gift certificates, gift cards, or some other method. We also took into consideration those who may not feel comfortable being indoors because of COVID-19, so each location we looked at needed to have a patio with TVs. We understand that one day this will not be an issue, but we wanted to give that as an option. Duffy's has limited seating (about 30 guests) on the patio with umbrellas and TVs. Because of the limited outdoor seating capacity at Duffy's, we are looking at making Teak Neighborhood Grill (located on 6400 Time Square Ave, Orlando, FL 32835 in Metrowest) an alternate viewing location for those only wishing to enjoy a football gathering outdoors. We will be evaluating this option over the next week or two to see if this is feasible and have enough support from our members to do so.
We would like to thank all of you who took time to provide us with suggestions, to visit prospective spots and to give us feedback on this difficult decision, especially those members of the board who volunteered their time out of their busy schedule to quickly turn this challenge over.
Need Your Feedback
Finally, we need your feedback. Please take this one question poll by clicking the button below to let us know what you plan for this upcoming season. This will help us plan for the season. Thank you for your support of the Penn State Alumni Association, Central Florida Chapter.