2022 Outback Bowl – January 1st

WE ARE…BOWL BOUND!!! 
You've likely heard by now that our Nittany Lions will be taking over Tampa for the 2022 Outback Bowl as they take on the Arkansas Razorbacks. Since the announcement, your Chapter leaders have been working diligently with our fellow local Florida alumni chapters to plan a special day. Here is some information and opportunities for our members and guests that will help you enjoy the day.
Game Info/Location
Penn State Nittany Lions vs. Arkansas Razorbacks
When: Saturday January 1, 2022 @ 12:00 Noon
Where: Raymond James Stadium
Game Tickets
There several ways to get tickets. On December 6th and 7th, there were several opportunities for Nittany Club members, season ticket holders and alumni members. If you were unable to reserve a ticket at that time, you can go to the following links below.
If you were able to reserve tickets early, we learned that the virtual tickets should be available some time between Friday, December 10th and Tuesday, December 14 with instructions via email coming from Ticketmaster. Please contact Ticketmaster for more information.
The Central Florida Chapter reserved a bus for our local chapters to take advantage of as a benefit of being part of our chapter. This bus will arrive early enough for the Tampa Chapter tailgate. We will be exploring options for a light breakfast during the trip.
BUS TICKET PRICING
If you would like a ticket for the bus, you can do so from here. The cost for paying members of the Central Florida Chapter, Daytona Chapter and the Space Coast Chapter is $30. All non-paying members can ride the bus for $40. Reservations for the bus is on a first-come/first-serve basis.

If you want to take advantage of the discount, become a member of our chapter today at: https://centralfloridapsu.com/shop/. You can also do so through your home chapter.
PICKUP LOCATIONS
We will have two pickup locations based on our existing passengers and their locations.
7am-7:10am: Publix Super Market at Curry Ford Square (10250 Curry Ford Rd, Orlando, FL 32825)
7:45am-7:50am: Publix at Champions Gate Village (8301 Champions Gate Blvd, Championsgate, FL 33896)
These pickup times are based on feedback we received from current passengers who would like to attend the Tampa Chapter tailgate where our drop-off point will be. Maps of where to park at these locations will be provided to those who already paid and where to get on the bus. We expect to depart Tampa at 5pm from the tailgate location. We are looking into using the GroupMe app to communicate with each other for transportation. If you have not already signed up, please do so as our space is limited.
Here is a quick list of questions and answers to help you decide if taking a bus is right for you.
Do you want to pay for gas?
Gas right now is averaging about $3.30 per gallon in Florida.
Do you want to pay for parking?
According to the website, parking is $35 per car at the stadium and is first-come, first-serve. Once those lots are full, you could be paying much higher or need to walk a long distance to the stadium.
Do you want to deal with traffic?
Some would prefer just enjoying the ride and not dealing with traffic.
Do you want to enjoy adult beverages?
We want people to enjoy themselves, but be safe. Taking the bus would give you a little more time to recover from your beverage.
Are you concerned with COVID-19?
Although the ventilation system should be able to handle a trip and the transportation provider meets CDC requirements, perhaps a bus isn't the option for you since the bus is enclosed. We ask that anyone who is feeling ill or in proximity to someone who was to not join us as well. We also request that people wear masks out of respect for others around you, but we will not require the use on the bus. The transportation provider may require it if there is a need, so please have one on hand. Refunds will be handled on a case-by-case basis.
Do you want flexibility in your schedule?
If you want to leave the game early or do not want to wake up early to catch the bus, perhaps driving yourself is your best option. Just know that taking a nap on the bus is always a nice option.
What amenities are on the charter bus?
The bus will be equipped with a restroom, WIFI, charging ports/outlets for technology, reclining seats, televisions and is maintained/cleaned to meet CDC guidelines.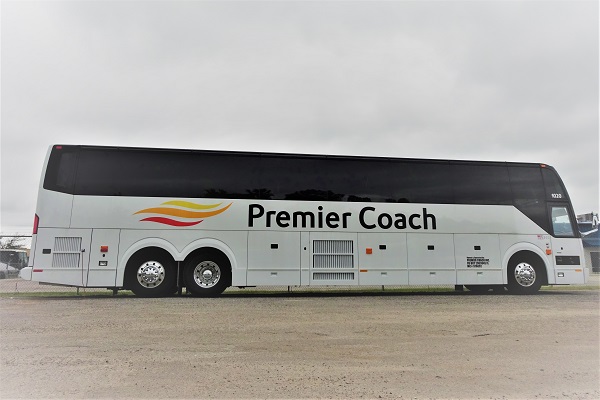 Bus Tickets Sold Out? Get Added to the Wait List
If you receive a message that the bus is sold out, that means we hit our maximum capacity for our bus. It doesn't mean, however, that you are out of luck. Simply contact us, and we will put you on the waiting list. If we get enough people on the waiting list, we may reserve another bus to transport you and your party to the game.

Tailgate
As host city chapter, the Tampa Chapter will be hosting the tailgate, which is separate from the PSAA tailgate. The location will be at 3350 West Woodlawn Avenue, Tampa, FL, USA, which is less than two blocks from the stadium. Our bus transportation will be dropping our passengers off at the tailgate and picking them up from this location to return home. Here are the details for the tailgate.
What will I get once I purchase a tailgate ticket?
Besides being within 3 minutes of the stadium, you will be able to come and go as you please and get some great food, drink and entertainment amenities. Here are the details for the tailgate.
Breakfast menu buffet being served from 8:00am – 11:00am
Lunch menu buffet being served from 11:00am until one (1) hour after the end of the game (or until food runs out)
Full open bar (Top Shelf) during the entire event
DJ / music
Games
TVs
Plenty of port-o-potties
Sectioned off location for Penn Staters
Bring your own chairs!
What is the pricing for tailgate tickets?
The original price per ticket is $100, however, our chapters' members for a limited time only will get a 50% discount per adult with additional discounts for children. Here is the pricing.
Adults 19+ years of age: $50 (+$5 service fee)
11-18 years of age: $25 (+$5 service fee) – Can only be purchased at the tailgate
10 years of age and under: FREE
To get your tickets, you will need to purchase your tickets via the tailgate company's website or via their mobile app (easiest method). Information on each will be sent out via email and also via our Facebook group.
How can I get the chapter's discounted tickets?
To get your tickets, you will need to purchase your tickets via the tailgate company's website or via their mobile app (easiest method). To get your discount, you will receive information in one of two ways.
PAYING CHAPTER MEMBERS will receive an email on Friday, December 17th with the discount code and instructions.
All other non-paying chapter contacts and social media group members will receive the discount code via email or on our Facebook group on Tuesday, December 21st.
The deadline to purchase tickets to the tailgate with the discount is Tuesday, December 28th. At that time, all who wish to attend will pay the full price of $100 each.
Is there parking at the tailgate?
Yes, but it is very limited. Each spot is $50 and can be purchased in the same manner as the tailgate tickets. Look for information on how to do so via your email.
Stay tuned to your email to receive your instructions. Be sure to check your SPAM/Junk folders if you do not receive the email. There is limited space at the tailgate so get your tickets early.
Watch Party
If you are not going to the game in Tampa and want to still watch it with our Penn Staters, we will be hosting a special Watch Party at Duffy's Altamonte Springs, our official Watch Party location. This party will be complete with sound for the game, televisions and some other surprises. It is always a great time!
UPDATE: Duffy's will be opening up at 11am for those who would like to come and get some breakfast prior to the game. Morning-style cocktails will also be served including Bloody Mary's Mimosas and more. Then enjoy items from their lunch menu while watching the game with your fellow Penn Staters, family and friends!