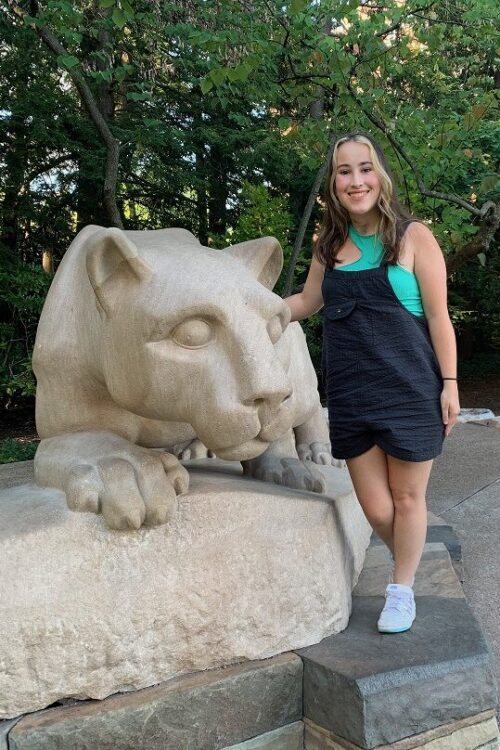 Our mission as a chapter of PSAA is to connect PSU alumni to the University and to each other, to provide valued service to members of the Association, and to support the University's mission of teaching, research, and service. One of the ways our chapter carries out this mission is by supporting the students from central Florida through our scholarship program. Each year we invite students to apply for our scholarship, and through our evaluation process, we select one winner for the upcoming academic year. The field of candidates we had this year was one of the most impressive we have had in a long time, which made our decision process quite challenging. So without further delay, for the 2022 scholarship recipient, our chapter members selected Sara Bucher!
Sara, a resident of Windermere, is a senior majoring in Animal Science with minors in Equine Science and Microbiology with a 3.79 GPA. She plans on attending medical school at the conclusion of her career at Penn State. We want to congratulate Sara for receiving this scholarship and all of her accomplishments.  We encourage you to check out Sara's essay (button below). We wish her the best as she enters this school year and look forward to having her and her family join us at future chapter events.
Each applicant much follow our scholarship guidelines, which includes a personal information sheet, completing an essay and an interview conducted by our scholarship sub-committee. Each are ranked by the committee with the top candidates being voted on by our membership using our chapter's survey platform. Those rankings are then forwarded to University Park to confirm eligibility which adheres to federal requirements.
Thank you to all of those who took the time to help us select our winner including our scholarship subcommittee and members. We also want to thank all of you who continue to financially support our scholarship fund through donations, fundraisers and membership dues. It is through your generosity that we can continue to support Penn State students from central Florida like Sara.